Composing a New Message
In the GMX Webmail menu, click Compose or [Alt] + [N].
If you wish, you may individually change the sender address via the pull-down menu in the From field.



In the To field, enter the mail address(es) of the recipient(s). If a recipient is already listed in your address book, do this: Click To: - Select the recipient(s) from the list - Click To >> - Click OK.
In the field Subject, enter your e-mail's subject line.
Enter your text.
To send the message to the recipient(s), click Send or [Ctrl] + [Enter].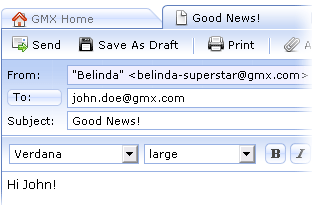 Did you know that...
...you can use a large array of keyboard shortcuts for convenient editing of your e-mails? Try the shortcuts listed below for the most efficient use of GMX Mail!
Write Mail
Keyboard Shortcuts
| | |
| --- | --- |
| Function | Keyboard Shortcut |
| Compose Mail | [Alt] + [N] |
| Select Entire Text | [Ctrl] + [A] |
| Send Mail | [Ctrl] + [Enter] |
| Save Mail As Draft | [Ctrl] + [S] |
| Copy Selected Text | [Ctrl] + [C] |
| Cut Selected Text | [Ctrl] + [X] |
| Paste Copied/Cut Text | [Ctrl] + [V] |
| Format Selected Text "Bold" | [Ctrl] + [B] |
| Format Selected Text "Italic" | [Ctrl] + [I] |
| Underline Selected Text | [Ctrl] + [U] |
| Select Recipient From Address Book | [Ctrl] + [E] |
| Undo | [Ctrl] + [Z] |
| Redo | [Ctrl] + [Y] |